RESULTS
MY APPROACH
PROVEN ROADMAP
We are focused on creating safe and effective programs to help you achieve your fitness goals - weight loss, improved strength, or enhanced mobility. Our approach is fitness that applies to your daily life - a life that requires a strong foundation of core strength and coordinated movement. The CORE is central to all movement and must function optimally to unleash the power and strength of all other major muscles. We empower your movements through a personalized combination of 5 fundamental attributes which are systematically progressed with a phased approach to build functional capacity. What will your combination look like?
PROGRAM OPTIONS
We develop personalized programs to help you achieve your goals! Each program begins with a FREE Assessment to identify your needs, limitations, and abilities to develop a safe and effective program that begins at your unique starting point crafted personally by Heather. Select from In-Person Training, Virtual Training, or Custom Workouts.
FENIX FITNESS APP
YOUR MOBILE COACH
We have made it easy for you with our app-based training solution that provides the flexibility you want coupled with the accountability that you need to succeed. Manage your nutrition, record your workouts, and review your progress all from your mobile device.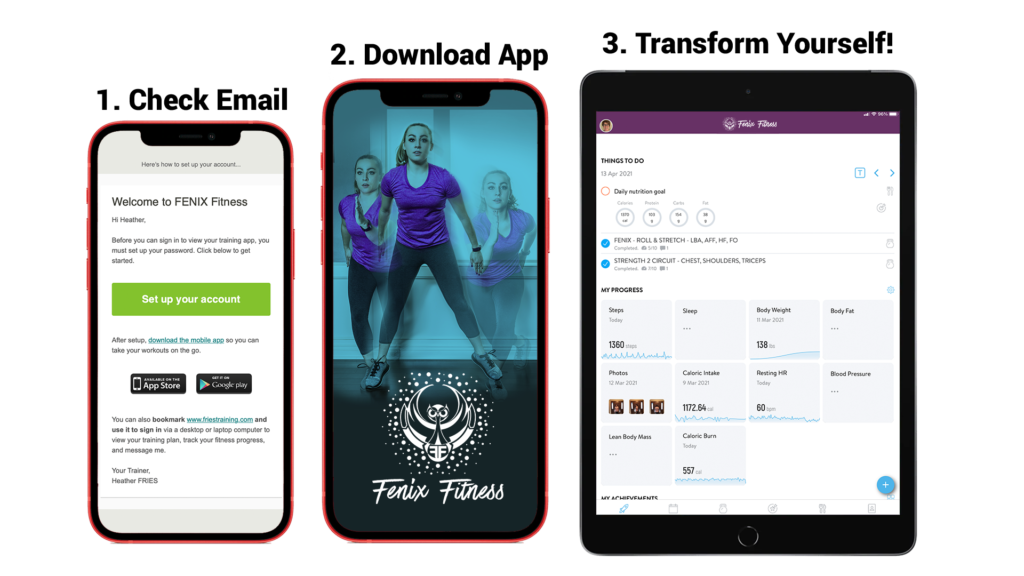 What people say
testimonials
I could not have found a better personal trainer than I did when I met Heather Fries… She was great about utilizing those few items that I already had in my so called 'gym'… I no longer had migraines. I was stronger,  more flexible, and I lost 8 pounds!
Having Heather come to my home was an important factor for me. From the start Heather has been an incredible support–listening carefully, encouraging unfailingly, and challenging appropriately. Heather knows what she's doing. So far I have lost 20 pounds and 20 inches and I feel like I have discovered the fountain of youth!
I worked with Heather for 12 weeks. I have a really bad knee and she tailored my workouts to make my muscles stronger around my knee. Working out with Heather helped me finish a full marathon. I would recommend her knowledge and skills to anyone at any level.
On Heather's program, I lost 42 lbs and 33 inches in 9 months. Beside losing the weight and the inches, I liked seeing the small improvements like being able to get out of the car easier or climbing stairs.
Heather is the gift that just keeps on giving…I've been a lifelong exerciser but could never figure out how to build my core until I met her.  She developed a program that I could do virtually from home and I've never felt stronger!  Her personalized approach helped me learn to strength train and best of all, she made it fun!